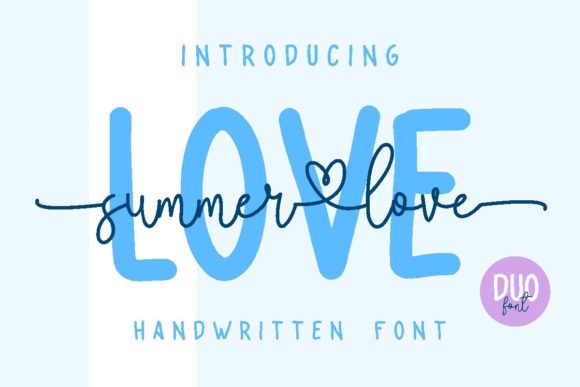 About Summer Love Font
Introducing "Summer Love," a beautiful and versatile duo font that combines the elegance of a handwritten script with the simplicity of a sans-serif typeface. With its thin and delicate letterforms, this font exudes a sense of beauty and charm that will captivate your audience.
The handwritten script font of "Summer Love" is the epitome of grace and elegance. Its flowing and natural strokes give your designs a personalized and authentic touch. Whether you're designing wedding invitations, love letters, or any project that requires a romantic and heartfelt feel, the script font of "Summer Love" will bring your words to life.
Complementing the script font is the sans-serif typeface, which adds a modern and clean aesthetic to your designs. The simplicity of the sans-serif letters provides a balanced contrast to the intricate details of the script font. This combination allows for versatility and flexibility, making "Summer Love" suitable for a wide range of design projects.
The distinct and well-rounded letters of "Summer Love" are meticulously designed to ensure a harmonious and cohesive look. Each character is crafted with precision and care, resulting in a font that is not only visually pleasing but also highly readable. This attention to detail guarantees that your message will be conveyed effortlessly and effectively.
The versatility of "Summer Love" knows no bounds. Whether you're creating logos, branding materials, social media graphics, or any other design project, this font is ready to make a statement. Its adaptability allows it to seamlessly blend with different design elements and styles, giving you the freedom to explore and experiment.
Using "Summer Love" is a breeze, thanks to its compatibility with various design software. You can easily incorporate this font into your creative workflow, whether you're a professional designer or a novice enthusiast. With its user-friendly nature, you can focus on unleashing your creativity and bringing your ideas to life.
So, embrace the beauty and versatility of "Summer Love" and let it elevate your designs to new heights. Fall in love with its thin and beautiful letterforms, and watch as it transforms your projects into works of art. Whether you're aiming for a romantic, modern, or timeless aesthetic, this duo font has got you covered.
Get ready to create stunning and impactful designs with "Summer Love." Let its distinct and all-around letters capture the hearts of your audience and bring your visions to life. It's time to fall in love with the beauty and versatility of "Summer Love" and unleash your creativity like never before!