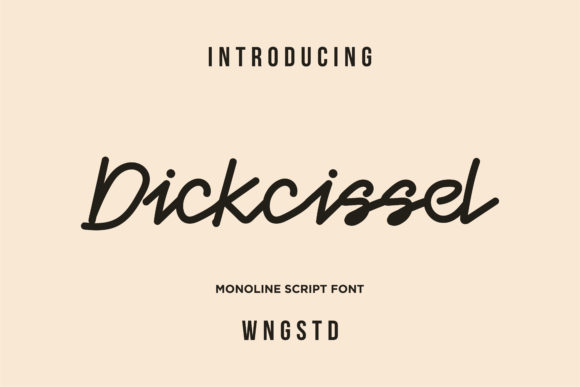 About Dickcissel Font
Introducing "Dickcissel," a vintage-styled and elegant handwritten font that is sure to take your creations to new heights. With its expert design and unique charm, this font will add a touch of sophistication and timeless appeal to any project.
The vintage-inspired look of "Dickcissel" captures the essence of a bygone era. Its elegant and graceful letterforms evoke a sense of nostalgia and class, making it the perfect choice for designs that aim to stand out from the crowd.
With its meticulously crafted details, "Dickcissel" exudes an air of sophistication. Each letter has been carefully designed to maintain a perfect balance between elegance and legibility. The result is a font that not only looks beautiful but also maintains its readability across various design applications.
This font is versatile and adaptable, making it suitable for a wide range of ideas. Whether you're working on branding materials, wedding invitations, packaging designs, or even editorial layouts, "Dickcissel" will elevate your projects and give them a refined and luxurious touch.
The beauty of "Dickcissel" lies in its ability to effortlessly blend with different design elements. Pair it with complementary fonts for a harmonious look, or use it as the centerpiece of your design to make a bold statement. The versatility of this font ensures that it can adapt to your creative vision.
Using "Dickcissel" is a delightful experience. It is compatible with various design software, allowing you to seamlessly incorporate it into your creative workflow. Whether you're a seasoned designer or a beginner, this font offers ease of use, allowing you to focus on bringing your ideas to life.
Let "Dickcissel" transport you to a world of timeless elegance and sophistication. With its vintage-inspired style and expert design, this font will add a touch of class to your creations, making them truly stand out.
So, embrace the vintage charm of "Dickcissel" and let it elevate your designs to new heights. Whether you're creating for personal projects or client work, this font will infuse your creations with a sense of elegance and sophistication. Get ready to captivate your audience with the timeless appeal of "Dickcissel"!