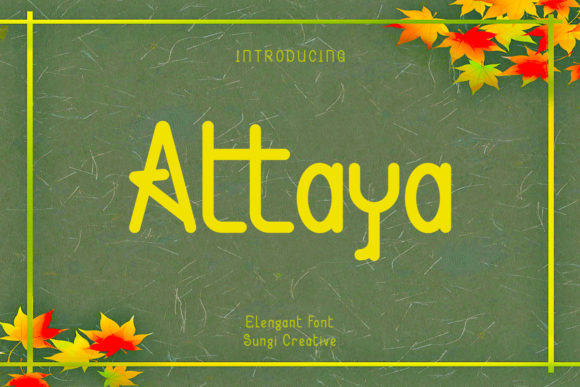 About Attaya Font
Introducing "Attaya," a cool and vintage-styled handwritten font that is sure to make a statement. This font brings a touch of nostalgia and character to any design, making it an invaluable asset to your font library.
The uniqueness of "Attaya" lies in its cool and vintage vibe. It captures the essence of old-fashioned handwriting and infuses it with a modern twist. The result is a font that exudes personality and adds a distinctive touch to your projects.
With its versatile style, "Attaya" can elevate any creation. Whether you're working on branding materials, logos, posters, invitations, or social media graphics, this font will bring a sense of character and charm to your designs.
The vintage-inspired design of "Attaya" takes you on a journey to the past. Its handcrafted look and imperfect details evoke a sense of nostalgia and authenticity. Each letter has a unique charm, giving your designs a one-of-a-kind appeal.
One of the strengths of "Attaya" is its ability to adapt to various themes and topics. Whether you're creating designs for a retro-inspired event, a trendy product, or a vintage-themed project, this font will effortlessly complement your vision.
Using "Attaya" is a breeze. It is compatible with various design software and can be easily incorporated into your creative process. Whether you're a seasoned designer or a beginner, this font offers a seamless experience, allowing you to focus on bringing your ideas to life.
Let your creativity run wild with "Attaya." Experiment with different layouts, pair it with other fonts, or use it as the main focal point of your design. The possibilities are endless, and "Attaya" will be there to add that extra touch of vintage flair.
Embrace the cool and vintage vibes of "Attaya" and let it elevate your creations to new heights. Whether you're designing for personal projects, client work, or simply expressing your creativity, this font will bring a unique and captivating aesthetic.
So, add "Attaya" to your font library and unlock its potential to transform your designs. With its cool and vintage-styled charm, this font is ready to breathe life into your projects and make them stand out from the crowd. Get ready to make a bold statement with the timeless appeal of "Attaya"!