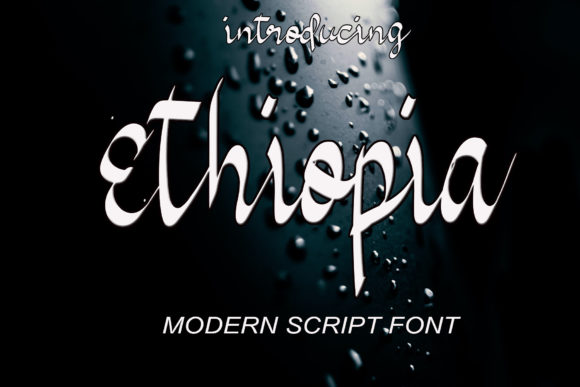 About Ethiopia Font
Introducing "Ethiopia," a whimsical script font that brings a relaxed and carefree vibe to your designs. With its charming and playful style, this font is a versatile addition to your fonts' library, capable of enhancing any creation with its unique flair.
The relaxed theme of "Ethiopia" is perfect for a wide range of design projects. Whether you're working on branding, packaging, invitations, social media graphics, or any other creative endeavor, this font will add a touch of whimsy and personality. It's designed to bring joy and lightheartedness to your designs, making them stand out and capture attention.
The lovely style of "Ethiopia" is evident in its graceful letterforms and flowing strokes. Each character is carefully crafted to create a harmonious and balanced look. From the playful loops and swirls to the unique connections between letters, this font exudes a sense of spontaneity and creativity.
One of the great strengths of "Ethiopia" is its versatility. Regardless of the topic or theme, this font can effortlessly elevate your designs. It can be used for a variety of projects, such as greeting cards, posters, quotes, book covers, apparel, and more. The possibilities are endless, and your imagination is the only limit.
Adding "Ethiopia" to your fonts' library opens up a world of creative possibilities. Its relaxed and whimsical style gives you the freedom to explore and experiment with different design ideas. Whether you're aiming for a playful and fun look or a more casual and laid-back aesthetic, this font has got you covered.
Using "Ethiopia" is a breeze, as it is compatible with various design software. You can easily incorporate this font into your projects, whether you're a professional designer or someone who enjoys creating for fun. Its user-friendly nature allows you to focus on the creative process and bring your vision to life.
So, embrace the whimsical charm of "Ethiopia" and let it bring a relaxed and joyful atmosphere to your designs. Add this font to your collection and unlock its potential to elevate any creation. Get ready to captivate your audience with the unique and lovely style of "Ethiopia."
Unleash your creativity and let "Ethiopia" be your companion in creating delightful and eye-catching designs. Whether you're working on personal projects or professional endeavors, this font will infuse your creations with a touch of whimsy and charm. It's time to bring your designs to life with the relaxed and lovely style of "Ethiopia"!