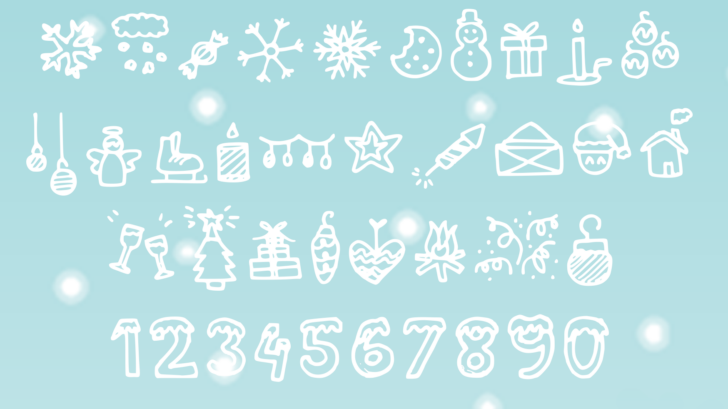 About Christmas Icons Font
Introducing the Winter Wonderland Icon Set: Create Personalized Christmas Cards with Ease!
Are you ready to spread the joy and warmth of the holiday season? Look no further than the Winter Wonderland Icon Set, a delightful collection of icons inspired by the Christmas feeling. With this versatile set, you can easily create your own personalized winter-themed and Christmas cards that will bring smiles to the faces of your loved ones.
The Winter Wonderland Icon Set is designed to capture the cozy and festive atmosphere of winter. Each icon represents a different element of the holiday season, from snowflakes and ornaments to hot cocoa and Santa Claus. With these icons at your disposal, you have the power to create beautiful artwork that will immerse everyone in the spirit of Christmas.
Whether you're a seasoned designer or a beginner, using the Winter Wonderland Icon Set is a breeze. Simply choose the icons that resonate with your vision, and incorporate them into your artwork. With a wide range of options available, you can mix and match icons to create unique compositions that reflect your personal style and message.
The versatility of the Winter Wonderland Icon Set allows you to unleash your creativity and craft one-of-a-kind Christmas cards. Use the icons to adorn your card's cover, embellish the inside with festive elements, or create a captivating border that frames your heartfelt message. The possibilities are endless, and the result will be a personalized card that radiates warmth and holiday cheer.
Not only are the icons in the Winter Wonderland Icon Set visually appealing, but they also evoke a sense of nostalgia and tradition. By incorporating these symbols of Christmas into your designs, you can create a connection with the timeless traditions and joyous memories that the holiday season represents.
So, gather your creative spirit and get ready to immerse yourself in the cozy, festive winter mood with the Winter Wonderland Icon Set. Whether you're making cards for friends, family, or even for business purposes, this collection of icons will help you bring your visions to life and spread the magic of Christmas.
Don't wait for next year's Christmas to arrive. Start preparing now by using the Winter Wonderland Icon Set to create personalized and heartfelt cards that will leave a lasting impression. Let your loved ones know how much they mean to you by sharing a piece of the holiday spirit, beautifully encapsulated in your own artwork.
Get ready to embark on a joyful and creative journey with the Winter Wonderland Icon Set. Capture the essence of Christmas, embrace the warmth of the season, and create memories that will be cherished for years to come.