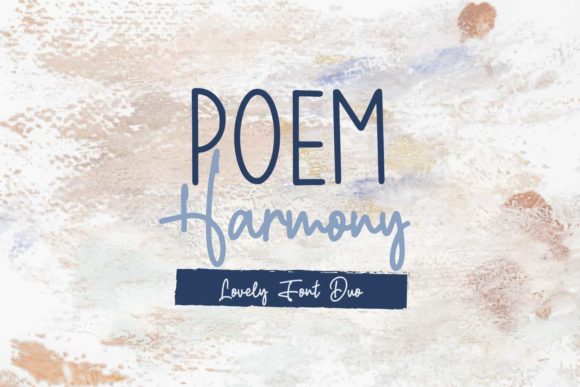 About Poem Harmony Font
Introducing "Poem Harmony," a delightful and versatile duo font that will bring a touch of sweetness and elegance to your designs. With its combination of a sans serif and script style, this font duo offers endless creative possibilities and the ability to elevate any project.
The sans serif font in the "Poem Harmony" duo is clean, modern, and versatile. Its simplicity and readability make it a perfect choice for headlines, titles, and body text. Whether you're designing a logo, branding materials, or web graphics, this sans serif font adds a touch of contemporary elegance.
Complementing the sans serif font is the script font, which is the true star of the duo. With its flowing lines and beautiful curves, the script font exudes a sense of charm and sophistication. It adds a handwritten touch to your designs, evoking a feeling of personal connection and elegance.
The script font in "Poem Harmony" is perfect for creating stunning logos, elegant invitations, stylish wedding stationery, inspiring quotes, and more. Its versatile nature allows it to adapt to various design themes and purposes. Whether you're aiming for a romantic, whimsical, or modern look, the script font will add a touch of grace and personality.
The combination of the sans serif and script fonts in "Poem Harmony" creates a harmonious balance in your designs. The contrasting styles complement each other, allowing you to create visual interest and hierarchy. You can use the sans serif font for bold headlines and the script font for delicate details, creating a cohesive and eye-catching design.
Both fonts in "Poem Harmony" are meticulously crafted, ensuring that each letter is well-balanced and visually appealing. The script font features beautiful swashes and ligatures, providing you with additional design options and creative freedom. These additional glyphs allow you to customize and enhance your designs, making them truly unique.
The versatility of "Poem Harmony" makes it suitable for a wide range of projects and industries. Whether you're designing for wedding and event planning, fashion and beauty, food and beverage, or any creative endeavor, this duo font will bring a touch of sweetness and sophistication to your work.
So, embrace the beauty and versatility of "Poem Harmony" and let it inspire your next design project. Whether you're creating logos, branding materials, invitations, or any other creative piece, this font duo will elevate your work with its sweet, lovely, and harmonious style.