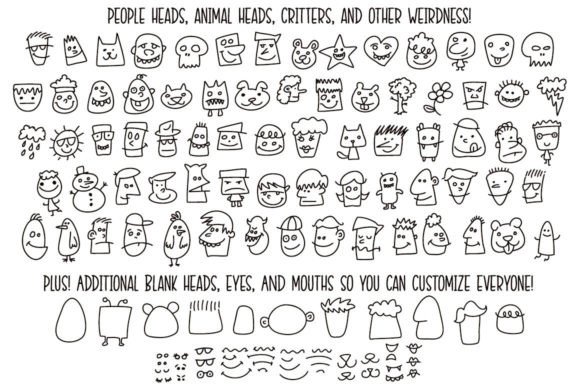 About Kookyheads Font
They're heads. They're kooky. They're Kookyheads! I've drawn a set of doodle heads with a variety of expressions, plus some bonus blank heads and feature sets. Use the heads as-is, or type out the parts you need, expand/release/ungroup, then you can mix and match features from all of the heads and spare parts!
All of the Kookyheads are mapped to regular keyboard keys, so you don't need any additional programs to use them. Just type and go! I've included a PDF list of which heads are typed with which keys, to make it easy to find the completed head (or custom head-building parts) you need!
Your download includes:
– Kookyheads font in OTF and TTF file formats
– 75 complete heads, doodles, and critters
– 11 blank head shapes
– 38 feature items (eyes, glasses, mouths, and more) for customization
– Handy PDF guide showing which letter to type for each head/element