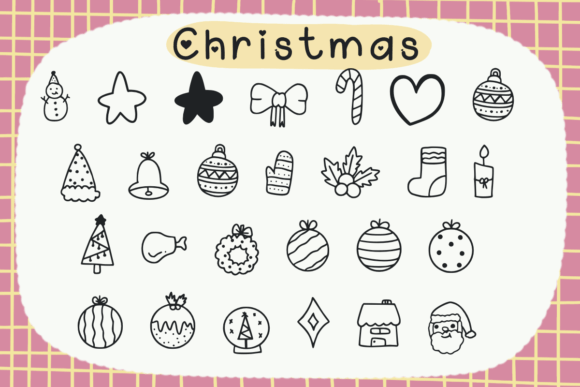 About Christmas Font
Introducing "Jolly Holiday," a charming and versatile hand-drawn dingbats font that captures the festive spirit of Christmas. With its delightful collection of Christmas-themed symbols, this font is perfect for adding a touch of whimsy and cheer to your creative projects.
Whether you're crafting handmade holiday cards, designing festive presentations, creating worksheets for Christmas-themed activities, or working on any other Christmas-related project, "Jolly Holiday" has got you covered. The hand-drawn style of the font adds a unique and personal touch, enhancing the overall appeal of your designs.
"Jolly Holiday" features a wide range of Christmas symbols, including Santa Claus, reindeer, snowflakes, ornaments, stockings, presents, Christmas trees, and more. Each symbol is carefully crafted to bring the joy and magic of the holiday season to your creations. You can mix and match the symbols, layer them, or use them individually to create custom compositions that suit your design needs.
Add a touch of holiday magic to your presentations by incorporating the charming symbols of "Jolly Holiday." Use them to highlight important points, create festive headings, or embellish your slides with cheerful accents. Your audience will be captivated by the festive atmosphere you create.
If you're into crafting, "Jolly Holiday" is the perfect companion for creating handmade cards, gift tags, and decorations. Let the whimsical symbols of the font adorn your creations, spreading joy and warmth to your loved ones. The hand-drawn elements will add a unique and heartfelt feel to your handmade projects.
Teachers and educators can make use of "Jolly Holiday" to create engaging worksheets and educational materials for their students during the holiday season. Whether it's a fun Christmas-themed coloring page, a word search, or a math activity, the festive symbols of the font will make learning a joyful experience for young minds.
The possibilities are endless with "Jolly Holiday." Let your creativity shine as you incorporate this delightful dingbats font into your designs. Whether you're designing greeting cards, posters, social media graphics, or any other Christmas-related project, "Jolly Holiday" will bring a touch of magic and whimsy to your creations.
To use "Jolly Holiday," simply type out the corresponding characters on your keyboard, and the festive symbols will appear. Feel free to experiment with different sizes, colors, and arrangements to achieve the desired look. You can easily customize the symbols to fit your design concept and create visually stunning and captivating designs.
Embrace the holiday spirit and add a dash of festive charm to your creative ideas with "Jolly Holiday." Let the hand-drawn dingbats of this font bring joy, warmth, and a sense of celebration to your Christmas-themed projects. Get ready to impress with outstanding designs that capture the essence of the holiday season.