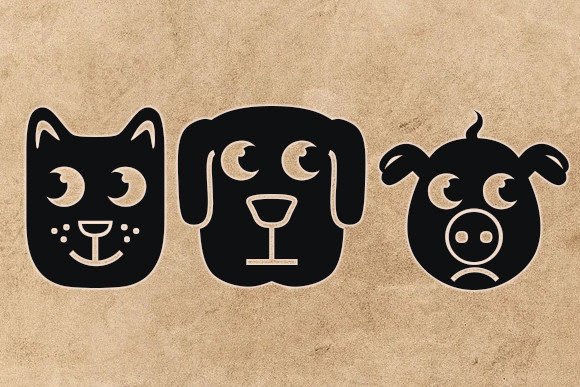 About Animales Font
Introducing Animales, a captivating dingbats font that brings a collection of diverse animal symbols to enhance your projects. This unique font is perfect for adding a touch of nature, creativity, and playfulness to your designs.
With Animales, you can unleash a menagerie of animal symbols that will instantly grab attention and add a dynamic element to your projects. From cute and cuddly creatures to majestic and powerful beasts, this font offers a wide range of animal symbols to suit any style or theme.
Whether you're designing shirts, postcards, flyers, or any other visual materials, Animales will infuse your creations with a sense of adventure, joy, and wonder. Each animal symbol is meticulously designed to showcase the distinct features and characteristics of the creatures they represent, allowing you to create captivating compositions that resonate with your audience.
Using the Animales dingbats font is simple and intuitive. Just type the corresponding keys on your keyboard, and the animal symbols will appear, ready to be resized, rotated, and combined to suit your creative vision. Whether you want to highlight a specific animal as a focal point or create a whimsical scene with a variety of creatures, this font provides you with the flexibility to bring your ideas to life.
Animales is suitable for a wide range of projects and industries. Incorporate these animal symbols into children's designs to create playful and educational materials, or use them to add a touch of nature and wildlife to environmental campaigns and conservation initiatives. The versatility of Animales ensures that it can be used in various contexts, from branding and packaging to digital graphics and print materials.
Compatible with popular design software and easy to use, Animales is a valuable resource for designers, illustrators, and anyone looking to incorporate the beauty and diversity of animals into their projects. Let your imagination roam freely and explore the endless possibilities that this dingbats font offers.
Unleash the charm and creativity of Animales on your projects. Whether you want to create a whimsical animal-themed design or add a playful touch to your branding, this dingbats font will bring your ideas to life with its captivating animal symbols. Let the animals in Animales captivate and inspire your audience, making your designs truly unforgettable.